NRF Show 2014
The BIG Show mobile app - "NRF Show 2014" - is now available on your phone and tablet! It's easy to download and install, even easier to use and gives you instant access to everything happening at the show. Just download it from the App Store or Google Play
Sponsored by
Download the FREE App Now!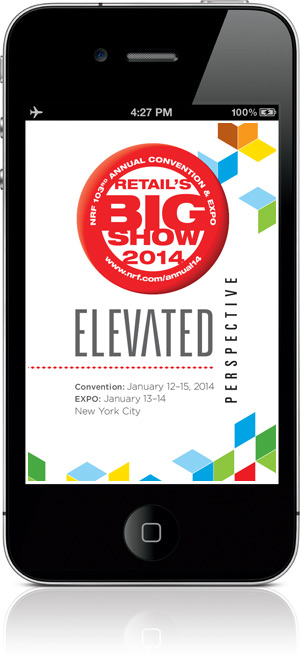 About
The BIG Show mobile app gives you a whole new dimension to your Convention experience.
Once downloaded, no Wi-Fi is needed to access session information
Use the app in conjunction with the print program guide
Access up-to-the minute session details and event updates
Plan your day and build your own personalized schedule
Browse or search the interactive Program, Speaker and EXPO sections
Find your way easily using maps of the Convention Center and the EXPO floor
Stay organized by creating custom notes
Easily exchange contact information with other attendees via Bump
Immediately provide feedback to NRF using the Rate this session tool (WiFi needed)
Follow the #nrf14 discussions with the integrated Twitter feed
Save time after the event and email all session, speaker, and exhibitor notes to yourself, as well as exchanged contact information
App Icons
Use the icons within the app to email notes, find session locations, create your own schedule and more.